"Home Stretch" Has Arrived.
The latest novel in the "Benny Goldfarb, Private 'I'" series.
Home Stretch: 2nd in Benny Goldfarb, Private "I Series
HOME STRETCH by Howard Feigenbaum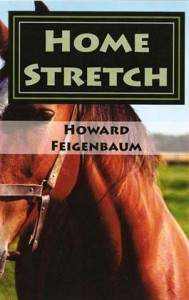 "An Argentine racing syndicate uses four horses as collateral for a loan. When the loan defaults, the bank discovers that the horses' identities have been forged. Benny Goldfarb, Private "I" travels to Argentina, Brazil and Paraguay to unravel the fraud. The tri-border area is a haven for criminal gangs and terrorists. They stand between Benny and his client's money. Benny's love interest, Rosa Zuleca, comes to terms with her newly-discovered family history–Sephardic Jews who left Spain for South America to escape the Inquisition."
Experience detective Benny Goldfarb, Private "I" once again, on a mega-adventure, in tip-top form, as he is summoned to solve a complex new crime. Step inside the Home Stretch as Detective Goldfarb unravels this riveting international crime scheme.
New Detective Books by Howard Feigenbaum
Home Stretch is author Howard Feigenbaum's most recent volume in a series of action/adventure/romance novels. The first book, Benny Goldfarb, Private "I", published in 2014, takes place in Los Angeles and Colombia. Home Stretch, the latest in the series of Feigenbaum's new detective books was released October 31, 2015. It is available in both Paperback and Kindle Edition on Amazon.