Press / Reviews - Howard Feigenbaum, Author
Detective Fiction & Detective Mystery Book Reviews / Other Written Works Reviews
Detective Fiction | Detective Mystery Book Reviews / Press
Indie author Howard Feigenbaum serves up the new detective fiction series, Benny Goldfarb, Private "I." Here are some of the reviews:
Reviews - Benny Goldfarb, Private "I."

Benny Goldfarb, Private "I": 1st Volume in the Benny Goldfarb, Private "I" series (Volume 1)
by Howard Feigenbaum, July 15, 2014

Buy it now.
Save
Save
Save
Save
Save
Save
Save
Save
   Benny Goldfarb is a smooth-talking private detective who gets sucked into the complex world of Colombian politics, drug cartels, and gun-toting mercenaries, when his love interest Rosa asks him to help save her missing brother Enrique. The result is a fast-paced adventure through Colombia as Benny, Rosa, and their cab driver Umberto race to find Enrique before it's too late.
   Feigenbaum's prose is simple–though mostly effective–as it unravels the adventures of Benny and his cohorts; the reader is given what is needed to paint a narrative picture without deviating into fluff or overly complex prose. This simplicity allows the story to keep moving without too many stalls along the way.
   A damsel-in-distress needing rescue from a private detective is formulaic; however, the chase through Colombia adds a bit of color and flair. Feigenbaum's familiarity with Colombian history, customs, and conflict–and his ability to keep the reader engaged–add a layer of interest to this standard detective tale.
   Benny Goldfarb is a fun character who has a few tricks up his sleeve–he's resourceful, passionate, and not afraid to resort to violence (when necessary); while still remaining morally upright, spiritual, and oddly old-fashioned. Rosa and Umberto, as Benny's sidekicks, add a sense of camaraderie to the narrative that makes it more enjoyable to read.
Book Life Review: June 2021
"Howard Feigenbaum… of Hemet, California, has crafted a tale of intrigue and romance called Benny Goldfarb, Private "I" (CreateSpace). In it, an attractive Los Angeles car-wash manager enlists the help of Benny Goldfarb — a private investigator, longtime customer, and new dancing partner — to find her brother in Colombia, where she believes he's being held hostage. During the two weeks that Goldfarb has to find him, he faces enormous obstacles and receives help from unexpected sources."
On Wisconsin Magazine, Bookshelf: Spring 2015
"This story has all the elements you look for in a satisfying detective yarn–suspense, a dab of romance, danger, escape, strategy, and of course, mystery. I thoroughly enjoyed this light reading. I wanted to read it in one sitting, but I did have to go to work and take care of other such details. For his first attempt at the detective genre, I think Mr. Feigenbaum has a winner! I look forward to Benny's next adventure."
Mary E. Reyna
"…it was the Benny Goldfarb character himself I found to be quite intriguing. He is more than just a man with unique and creative inroads to crime-solving. His whole approach to life is somewhat like a dance. He ebbs and flows through impossible situations. He takes time to reflect on what he is experiencing, when you least expect that reflection might even be possible in that moment. This kind of detail had me on the edge of my seat…"
ReadrPerson
Reviews - Home Stretch

Home Stretch: 2nd Volume in the Benny Goldfarb, Private "I" series (Volume 2)
by Howard Feigenbaum, October 1, 2015

Buy it now.
No reviews yet!
Thank you for checking out my book reviews!
If you have read this book, please feel free to leave a book review on Amazon.com by first clicking on this link, and then once again on the Amazon page just below my name at the top of that page where is says "review this item.". It is greatly appreciated if you do.

 - Howard Feigenbaum
Save
Save
Save
Save
Save
Save
Save
Save
Save
Other Books by Howard Feigenbaum - Reviews / Press
Author Howard Feigenbaum also writes children's books and poetry. Here are some of the reviews:
Reviews - We're All Nuts!
by Howard Feigenbaum, March 30, 2007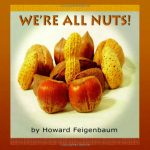 Buy it now.
Save
Save
Save
Save
"It was a peanut city! exclaimed Tobey and laughed. "I love this book, mom."
Tobey G.
"I purchased this book for my Grandson's fourth birthday. I enjoyed it as much as he did. Howard is a wonderful artist and author."
D
"My 7 year old son loved the book!"
L2
"We're all nuts is a cute and humorous book about a nut's journey in discovering the importance of being oneself and accepting where one comes from. This story may have been written for a child, but the lesson is important for all ages. This book gives the reader the lesson to know each person has a special gift to offer others in this world and the importance of self, regardless of where one comes from."
Book Review - The Therapist
"With photos by the author, this tale provides kids with a lesson in cultural identity: Goober learns that he's a legume but still longs to be a nut. Children of elementary school age will learn a little about how peanuts are harvested, packaged and shipped to market, in addition to the messages of self-acceptance and friendship."
Book Review - Quest Magazine
Reviews - I Wish I Were A Soul Train Dancer

by Howard Feigenbaum, August 30, 2011

Buy it now.
No reviews yet!
Save
Save
Save
Save
Save
Save
Save
Save
Get the 1st Book. Enjoy the thrill.
Get the 2nd Book. Continue the rush.